Kirsten Wyatt has been performing on Broadway along side of Taylor Hicks this summer. In the role of Frenchy, Kirsten has watched the ice cream cone descend many times and has listened to the teen angel's plea to go back to high school. Kirsten has graciously granted Taylor's Angels an insight into her background, her career and her thoughts on Taylor and American Idol. We thank Kirsten for this fantastic interview and wish her continued success in her career!
TA: Tell us about Kirsten. Where did you grow up and how did you get involved in the theater?
Kirsten:
I did most of my growing up in Clarksburg, West Virginia. Both of my parents are music teachers/musicians so there was always music in my home. When I was around 10 years old my mom asked me if I wanted to try out for our community theater's production of "The Wizard of Oz." I remember people laughing while I was auditioning on the stage and I was hooked. After my raging success as the Farmer Munchkin I stayed involved in the community theater and was lucky enough to go to a public high school with a very active theater program.
TA: We have read that you studied music in Cincinnati-- besides voice, did you study any other instruments?
Kirsten:
I was very fortunate to go to college at the University of Cincinnati College-Conservatory of Music where I majored in Musical Theater. It is one of the most respected musical theater programs in the country and their specialty is turning out "triple threats." A triple threat is a performer who can sing, dance and act equally well. So while I was there my days were filled with acting and dance classes and I didn't have the chance to study any instruments besides voice. Although in high school I played both piano and French horn.
TA: Have you done any television/movies or did you go directly into theater?Kirsten:
My career has pretty much been exclusively theater although I would love to get a few more TV shows and films on my resume. I did do an episode of "All My Children" many years ago where I was embarrassingly bad. Please don't look for it.
TA: How many auditions would you say you went on before landing your first Broadway role? Were you already living in NY or did you move to NY in order to accept that role?
Kirsten:
My first Broadway role was standing by for the roles of Sally and Lucy in the Broadway revival of "You're a Good Man, Charlie Brown." (FYI- A standby is an actor who is off stage and goes on when the person usually playing the role is not able to do the show.) I have no idea how many auditions I had been on but I had moved to NYC right after I graduated from college the year before so it couldn't have been too many. I was pretty lucky.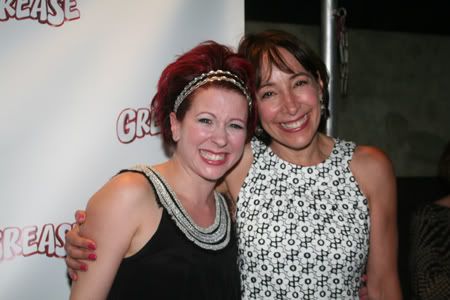 Kirsten and DiDi Cohn( Frenchy from the Grease Film)
TA: You were part of a national touring company for a Broadway production-- what challenges did you face "on the road"? How long did that last? What are the advantages/disadvantages to being part of a touring company?
Kirsten:
I have toured twice in my career. The first time was the national tour of "Urinetown the Musical" and I was on the road for 4 months. The second tour was a production of "The Boy Friend" that was directed by Julie Andrews. That tour was 9 months in total, although we were in Connecticut at the Goodspeed Opera House for the first three months so we weren't too far from home. The most challenging aspect of touring or being out of town for any job is having to be away from my husband. He is a jazz musician (tenor saxophone is his instrument) so he understands that touring is part of my business. It's part of his business as well and he spends a good amount of time on the road. We are both very passionate about what we do and we know sometimes you have to be away from home to do it. Technology has certainly made it easier - when Sean was in China last year we were able to use a program called Skype on our computers and it allowed us to video chat almost nightly. We also had a three week rule that we tried to stick to when I was touring the country - he would come out to visit or I would come home for my day off every three weeks. That, obviously, got pretty expensive - but worth every penny. Speaking of days off the other challenging thing about touring is that you don't really get them. All of your days off are spent traveling to the next city. That's when it is really beneficial to love the people you are touring with because there really is no one else around. I was lucky both times to tour with a great group of people. We were like one big happy, crazy family. And I am so grateful to still call a lot of those people I toured with my closest friends. Being on the road can be a blast. It can be hard to be away from home but you get to see the country, make a little money and you always have a TON of hilarious stories to tell.
TA: Tell us about the other plays you have performed in. Which one has been your favorite?
Kirsten:
I have a few favorites. When I was in college I did a show called "Das Barbecu" which is a parody of Wagner's "Ring Cycle" done Country Western style. It was hilarious. There were only six of us in the cast and each of us played at least ten different roles. So whenever you were offstage you were frantically changing costumes to make your next entrance. Exhausting but really fun. I also really enjoyed playing Peter in "Peter Pan." That was a magical show. I had so much fun fighting pirates, being the leader of the Lost Boys and, of course, flying. But I will say it took sooooooo much energy. I had to live like a nun - not much talking, a lot of gym time and no booze. I think I can say I suffered for my art. My other favorite was a show called "High Fidelity." It was a very short lived show on Broadway (10 performances after we opened) but I really did have the time of my life. It was my first time creating a role and that was such a fantastic and unique opportunity. I learned so much during the process. And the cast and creative team were spectacular. We all really gave our hearts and souls to the project. Maybe financially it was a flop, but for me, artistically and spiritually it was a resounding success.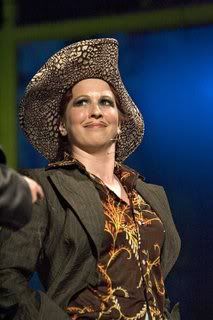 TA: Who are your heroes and how do they inspire you?
Kirsten:
I have been blessed to be surrounded by brilliant women my whole life. My mom, my sister and my mother-in-law are all amazing women who are able to maintain their individuality and take care of everyone around them at the same time. They are always kind and gracious but with strength. My Grammy Appolonia (my mom's mother) is full of light. She just glows. I think it's because she always tends toward the positive and always tries to see the best in people. Oh... and she also walks 3 miles every day. My Grandma Wyatt was a leader in both our family and our community where she served on the Board of Education. She taught me to always be true to myself no matter what. She passed away when I was 16, but her time with me was such a gift because she was such an amazing woman to look up to – she showed me it was possible to do it all.
TA: What would you say to inspire a young person wanting to become an actor?
Kirsten:
I have a few things to say on the subject. The first is to learn everything that you can. Study anything and everything because you never know when it will come in handy. The best actors I know are smart and curious. The second thing I would say is to never try to be someone else. When I was first starting out I spent a lot of my time trying to be more like other people when I performed – Kristin Chenoweth or Sandy Duncan or whoever I thought people wanted me to be. As I got older I realized that the best place to start was myself. It feels a lot more rewarding to perform that way. The other thing I have to say may sound a little harsh but I want to be truthful. This business can be full of rejection and frustration. If you are not completely passionate about being an actor then don't do it. Although, I think the same should be said for anything you do. I'm always dumbfounded by people who say to me "It must be great to do what you love." I always think to myself "It does feel great. Why don't you do what you love?"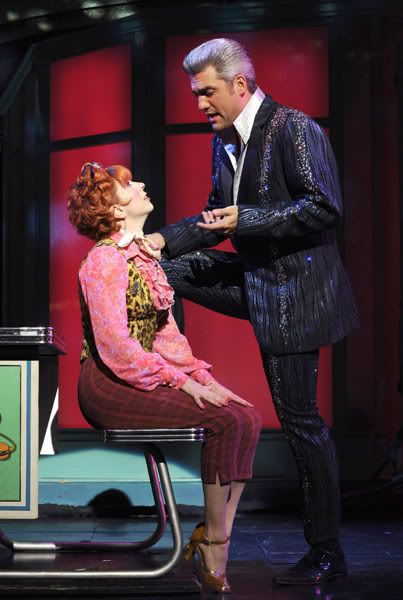 TA: How does it feel to have Taylor Hicks sing to you every night? Tell us about your "Teen Angel" and these past few months with him. What has this whole experience been like?
Kirsten:
Taylor has been so awesome to work with every night. I feel like we work well together and I think we've been pretty successful in creating our own unique version of "Beauty School Dropout." We've had a blast making up all our little bits which have kind of evolved over time. He has been great for our show and we are so thankful that he chose to spend some of his time with us at "Grease."
TA: It was just announced that another American Idol finalist, Ace Young, will be joining the cast of Grease. What are your thoughts on the additions of cast members who have not studied and trained as you have? What do you think of the "draw" that American Idol has had on Broadway?
Kirsten:
We are all really excited to have Ace on board. He sounds fantastic and has been nothing but sweet and professional in rehearsals. Plus, he's super cute. :) I think the trend of having "American Idol" contestants or people who are box office draws but who may not be as experienced is a good thing overall. The bottom line is it gets people to the theater. My hope is that after that experience people will say, "What a great Broadway show. Let's go see another one. And another one. And another one…" And eventually theater will be a steady source of entertainment for them – whether it's on Broadway or in their hometown.
TA: Are you living your dream? What are your future goals?
Kirsten:
I am, without a doubt, living my dream. I have a beautiful and amazing husband. I have a loving and supportive family. I have a ton of friends who I consider family. I have a great apartment. And I have a fabulous job where I perform for 1100 people every night doing exactly what I love to do. Of course I have other dreams and aspirations - be on a TV show, own a home, travel the world. But I am so grateful from the tips of my toes to the top of my head for all the opportunities I've received. "Grease" has been such a fantastic experience for me. At some point during every show I look out and remember being a little girl sitting in the audience saying to myself, "I want to do THAT!" And here I am… it's pretty freaking awesome.
Media: Cydter
Editing: DidNotExpectThat
Tags:
Taylor Hicks
,
American Idol
,
Soul Patrol
,
Taylor's Angels