It first rang out over the cotton fields of the Mississippi Delta and then migrated to the streets and clubs of Memphis. It went on to influence the sound of music all over the world. Memphis, Tennessee is the home of the blues and the birthplace of rock and roll. Being raised among such rich musical history, it is easy to see why the talented
Brian Less
is affectionately known as "Little Memphis". His extraordinary talent has been nationally showcased over the past two years since his good friend,
Taylor Hicks
, won American Idol in 2006. First as the keyboard player with Little Memphis Blues Orchestra (LMBO) and then as the organist with the
Taylor Hicks
national touring band,
Brian Less
has proven himself worthy of his nickname. His incredible musical talents coupled with his sincere appreciation of his fans have made Brian a favorite among
Taylor Hicks'
Soul Patrol.
But how did
Taylor Hicks
come to appreciate the musical abilities of
Brian Less
? The story is fascinating.
The
Taylor Hicks
band played a gig in Mobile, Alabama several years prior to his catapult to fame with American Idol. Taylor and a friend stopped into a bar that night after their performance and took note of the keyboard player,
Brian Less
. Taylor immediately remarked to his friend, "I want that kind of piano player in my band".
Coincidentally, two weeks later, the
Taylor Hicks
band was in Nashville, Tennessee for another important gig. This time, Taylor's bass player tried to convince him to allow a friend of his to sit in with the band on the keyboard. Taylor adamantly refused, stating that they had to be at their best that night. But as fate would have it, Taylor finally agreed and
Brian Less
strolled into sound check. Immediately recognizing him,
Taylor Hicks
said to him, "were you playing in Mobile two weeks ago?" With the answer of "yes", Taylor immediately asked Brian to join the band without the first note being auditioned.
The talent of
Brian Less
has always been evident to
Taylor Hicks
. Perhaps that is why, after winning American Idol and forming a top-notch touring band, Taylor once again asked Brian to join the now famous
Taylor Hicks
band this time on the organ. Brian quickly became a fan favorite and friend of
Taylor Hicks'
Soul Patrol as they traveled from coast to coast on Taylor's first solo tour in 2007.
(video credit: Catwoman52)
Recently, Brian was gracious enough to sit down and answer some questions posed by Taylor's Angels. His words give you a greater knowledge of his musical background and insight into Little Memphis himself.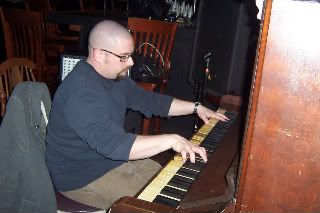 Taylor's Angels:
At what age did you begin to play musically and did you ever think it would become your career?
Brian:
I started playing when I was 5 yrs old. I knew I wanted to make it my career when I was probably 10 or 11.
Taylor's Angels:
Besides the keyboard and organ, do you play any other instruments?
Brian:
I play "at" the drums and bass guitar.
Taylor's Angels:
How did you get your start in music?
Brian:
My parents put me in an after school piano program in kindergarten, I guess I caught on.
Taylor's Angels:
Was your family supportive of you when you decided to become a musician?
Brian:
If it wasn't for the support from my family, I wouldn't be where I am today.
Taylor's Angels:
Have you enjoyed the fame? What things have you been able to do or not do because of it?
Brian:
I don't see myself as famous. I am more well known which allows me to meet a lot more "music appreciaters"!
(video credit: cuckoomimi)
Taylor's Angels:
Where do you see yourself as a musician in 5 to 10 years?
Brian:
Playing in a band.
Taylor's Angels:
If you were not making music, what would you be doing for a living?
Brian:
Probably something in Law Enforcement.
Taylor's Angels:
We have heard that your parents live in Memphis (Cordova). Did you grow up there? Have you ever played on Beale Street?
Brian:
I grew up in Germantown. My parents moved to Cordova when I left for college. I have played on Beale Street a few times.
(video credit: cuckoomimi)
Taylor's Angels:
What are your hobbies other than music? What do you do when you are not playing?
Brian:
Well, my wife, family, dogs, and friends pretty much take up all of my time. I enjoy football ("Roll Tide"), and seeing the country with my spare time.
Taylor's Angles:
Do you have any advice for someone trying to make it in the music industry?
Brian:
Be yourself, play from the heart, and bands come and go. As long as you keep playing you will succeed.
We thank Brian for allowing us the opportunity to know more about him, and wish him the best of luck in his career! We also invite you to leave comments for Brian or share wonderful memories of our friendship with this incredibly talented man.
Edited by Tina (DidNotExpectThat)
Media by Teri (Cydter)
Special thanks to Cassidy for arranging this interiew and for some fantastic photos!
Tags:
Taylor Hicks
,
American Idol
,
Soul Patrol
,
Taylor's Angels